Census 2020
Special thanks to Anne Hamland for providing this information.
 Census 2020 Sneak Peak
Walk through the 2020 Census so you can be ready to answer questions.
Communicate the Importance of an Accurate Count
Let's help people understand the importance of a good count in your area and across the state. For tips in providing assistance to Census takers, DPI is maintaining a resource page.
Visuals & Public Information: Ready to Print
New in 2020
English/Spanish bilingual questionnaire (paper)
Online form available in 13 languages
Guides to help fill out form in 59 languages
Ability to call and respond using Telecommunications Device for the Deaf (TDD)
Ability for head-of-household to reporta same-sex relationship
Ability to self-identify race and ethnicity via checkboxes and write-in text boxes
Source: Libraries' Guide to the 2020 Census American Library Association
Editable Poster on Canva from Cole (River Falls)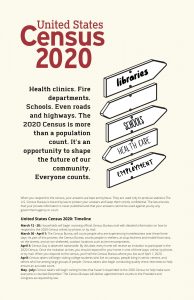 Free to use social media shares