Take a minute (or four) to tell us about your Explore MORE Passport experience!
Would you like to share your ideas and experiences?
Have an adventure! Visit Explore MORE participating libraries to collect passport stamps for a chance to win prizes. At the same time, discover our beautiful communities with unique local businesses, parks and museums. There are scenic treasures, local and natural history finds, nummy treats and new friends to find on your Explore MORE road trips.
How to be an Explorer
1. Stop by any participating MORE library to pick up your passport, or download your printable passport (pdf). Passports can be stamped from April 4, 2022 until July 15, 2022.
2. There are two ways that you can get your passport stamped.
Visit a MORE library and do one of the following: check out an item, participate in a program or activity, or sign in and use a public computer (For Instance, print out a map and directions to the next library you want to visit!)

Can't travel? Call or email a MORE library and ask the librarian for a book or movie recommendation, or ask a question about the library or the community. You'll get a secret code to add to your passport. Please don't share your code.
Only one stamp or code per patron per library with the exception of the following MORE libraries. Visiting one of the following libraries in person gets you two stamps! Bruce Area Library, Rusk County Community Library in Ladysmith, Ogema Public Library, Phillips Public Library, Park Falls Public Library (Price and Rusk counties).
3. For every ten stamps or codes you collect, go to a MORE-member library and get an entry form for a chance to win prizes. You may enter up to five times.
4. The prize drawing will occur on August 1, 2022. Winners will be notified using the contact information on their entry form. Staff of IFLS Library System and MORE libraries are not eligible to win.
Prizes
Continue your Wisconsin adventures!
Grand Prize: 1 State Park Pass, 1 State Trail Pass, gas gift card, compass, road atlas, car blanket
1st Prize: State Park Pass
2nd Prize: State Trail Pass
3rd Prize: gas card
4th Prize: road atlas and compass
Prize winners will be able to pick 2022 or 2023 passes.
Use the MORE Libraries app on an iOS or Android mobile device to find new titles, manage your account, plan your visit, and browse recommendations.
Features:
Instant access your library card
Search the collection and save titles for later
Place and manage holds
Renew checked out items
Check library hours and locations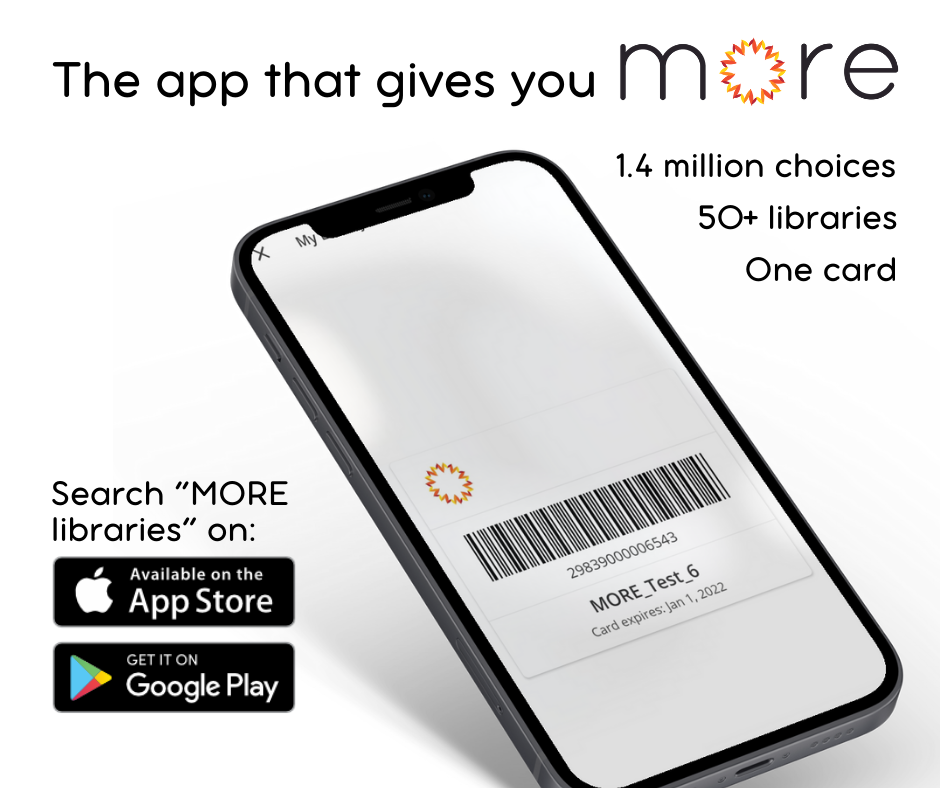 Questions?
Contact any MORE library or email Rebecca Kilde at kilde@ifls.lib.wi.us