Frozen Holds
What is a frozen hold?
Patrons can place holds, then freeze (or "suspend") the hold to retain their place in the holds queue but prevent their hold from being filled.  For instance, if a patron has requested titles, but will be on vacation for a month, they may want to freeze their holds so that none of their requests are filled while they are unable to retrieve them.
In Sierra, a frozen hold displays a date in the "Not before" column on an item record's Bib-Level Holds tab

You can't unfreeze a patron hold from Sierra.  This has to be done from the patron's account in the MORE Online Catalog. When a patron's hold is frozen, you'll see a grayed-out "Not Wanted Before" date when you select the hold from within the patron's record and choose "Modify Holds."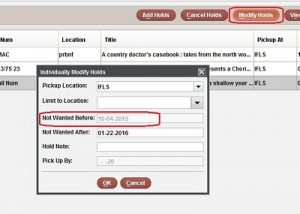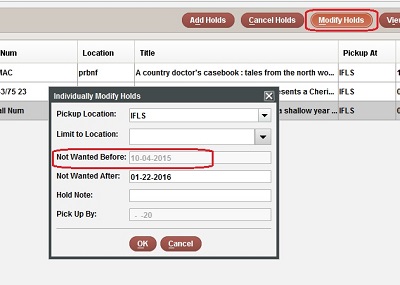 ---
How to freeze holds
To freeze holds, patrons can log on to their account in the MORE Online Catalog.  From their list of holds, check the appropriate boxes in the "Freeze" column, then select "Update List."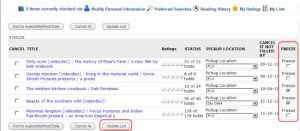 Choose 'YES' in response to the confirmation message.

The holds will remain frozen until the patron "unfreezes" them.
---
How to un-freeze holds
When a patron is ready to receive an item on hold, they must access their account online and "unfreeze" the hold.  Their hold will then be filled once they are at the top of the holds queue.
From a patron account in the MORE Online Catalog, select the "# requests (Holds)" option.  Uncheck the boxes in the FREEZE column to "unfreeze" the corresponding holds and select "Update List."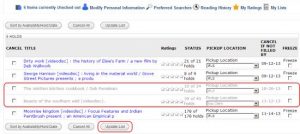 Respond with "YES" on the confirmation screen
---
Checking for frozen holds
When viewing a patron's checked-out items tab it is usually easy to spot whether or not an item has a hold on it (therefore knowing whether or not it can be renewed) by looking at the Status column.  There you can see if any holds exist; the number will be listed there (see screen shot on above page).  However, any existing holds are listed, regardless of whether or not they are frozen.  This is important because if all existing holds are frozen, the item can be renewed.  There have been many times when a patron has been told an item cannot be renewed, only to have staff check it in after the patron is gone and discover no hold was triggered.  This can most easily be avoided by just trying to renew the item; if it can't be renewed the screen will say so.
If you want to look to see if the holds are frozen, right click on the item and click on View this Item.


When the item record opens, click on the Bib-Level Hold tab.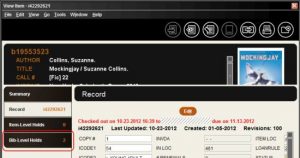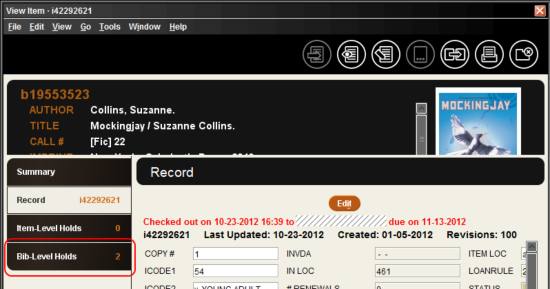 Check the Not Before column.  If there is a date in this field, the hold is frozen.

In this example, both remaining holds are frozen.  The status column for a checked out copy of this title shows 2 holds, but the item can still be renewed.
Again, the best thing to do is to try to renew the item.  The system will allow you to renew without an override if all remaining holds are frozen.
---
More details about frozen holds
When a hold is frozen, the system automatically inserts a "not needed before" or "not before" date of 255 days from the date the hold was placed.  The hold remains frozen until the patron unfreezes it even after the "not before" date passes.
Once a hold is 255 days old, it can no longer be frozen.  Patrons will see a message in their holds display stating "hold is too old to be suspended."  This is because of the way the system automatically generates "not before" and "not after" dates for holds.