Online Catalog: FAQ, videos and links
FAQs
Can we make it so users don't stay logged in after they request an item? That's how the old catalog worked.
There is no option for Encore to replicate the classic catalog behavior of one-time authentication that doesn't leave the user logged in. On the catalog side, there is a built-in timeout function (30 minutes) and a message about logging out on the log in screen: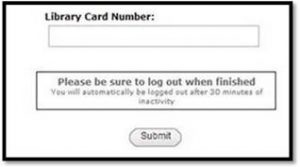 I've heard that some libraries have posted signs about logging out at their public computers, and at least one plans to use the classic catalog by default at public computers for this reason. To do that, set the browsers' homepage to more.lib.wi.us/search.
We could adjust the logout time. The trick is striking a balance between the timeout duration being effective in a public setting and working well for at-home users. We do know that the majority of searches occur away from the library. The last time we experimented with timeout durations during the catalog redesign about 3 years ago, we heard from at-home users that they were frustrated to have been automatically logged out after what they thought was a short amount of inactive time (I recall it was 20 minutes at the time). They would have carefully crafted carts disappear, etc. That said, the ramifications of not logging out on a public computer can be serious, and I am certainly open to suggestions on encouraging logging out.
Why can't I search by title (or author, ISBN, etc.)?
I suggest trying a title (or author, ISBN, etc.) search in the main search box and see how the results come out. The new catalog uses an algorithm to rank search results, and one of its assumptions is that you might be typing in a title or words that go together (like an author's first and last names). If that doesn't work well for a particular search, you might try the "Search Found In" limiter on the left side to indicate Title, Subject, or Author. Advanced Search can also be useful. There, you can specify author, title, and subject. Advanced Search also saves the limits you set from advanced search to advanced search.
Can I limit to titles not in my reading history? View ratings? Save preferred searches?
Not with the new catalog. Users can still do these things from the Classic Catalog. Select the Classic Catalog link  in the main blue search box, then "Log into Classic Account" from the subsequent blue search box. Once logged in, folks can get back to their account information, classic version, with a link at the top of the page (not the blue My Account link, which will always go to the new My Account).

How do I find titles in a series?
The new catalog doesn't allow you to specify that you're entering a series search, and series names aren't linked within records as in the classic catalog. Here are a couple of suggestions for finding series:
Try entering the series name along with either the subtitle or series number (or both). The matching title should be at or near the top of the results list, but you'll typically have to click on the title to verify the series number from the full record display.
Find any book in the series and select it to view the full record. Scroll down to NoveList Select results, which will show "Books in this Series" when available. Links go to the record in our catalog. Look for the little (more) link to see the full series.
I'm working with our software vendor to figure out how we might display series information as one of the left-side limiters, but I'm not sure if that will be possible.
How do I get my library's items at the top of the list?
The new online catalog is optimized for users to log in. When they do so, information about items belonging to their home library appear more prominently in the search results. Other items are alphabetically listed. When not logged in, the only item sort order options are alphabetical (our current setting), chronological by date added, and reverse chronological.
I've heard from other public services staff that this arrangement is one of the things that makes the new catalog less than ideal for working with customers. (Other things include users remaining logged in after a request and left-side facet selections not "sticking" across searches.) To minimize how often you need to log in and out, you might consider using two different browsers and logging in with a library department card with your library as home library on one. You could use that browser for searching when you want to see your holdings right away, and the other browser for placing holds for customers.
How do I add items to a saved list?
First, add to a cart (the little shopping basket icon under "Additional actions"), then you can view the cart and save items to a list.
Please continue sending questions and comments via the help desk. While many things can't be changed in the new catalog, it's useful for everyone to better understand how the new catalog works and learn ways to use it most effectively.
Links
Using the MORE Online Catalog webinar (submit a help desk ticket for password)