Advocacy Task
I've been in contact with Shawnda Hines at ALA, and she has asked us to please contact Sen. Tammy Baldwin to ask her to cosponsor the Build America's Libraries Act. Sen. Baldwin has historically supported public libraries.
Sen. Baldwin is chair of the Senate Appropriations Subcommittee on Agriculture, Rural Development, and Food and Drug Administration. Here's her website.
Her focus right now is a strong rural economy, so make sure to mention how your library contributes to your local economy. Need help crafting a message? Contact Reb (kilde@ifls.lib.wi.us) or John (thompson@ifls.lib.wi.us).
Consider inviting Sen. Baldwin to do a virtual tour of your library. How to Conduct a Virtual Library Tour from ALA.
Consider asking your board, Friends and super-fans to contact Sen. Baldwin as well.
Could you please let Reb know if you contact her, and what her response is? Thank you!
ACA coverage expansions
Many more people are now eligible for free or low-cost coverage through the marketplace and the application period has been extended. At an Adult Services check-in librarians mentioned that they haven't been getting a lot of questions about it. Here's a FB post graphic and a website slider to help get the word out. Application assistance is available through the Wisconsin Department of Health.
FB post Canva template. |  Website slider Canva template
Broadband Assistance Benefit
Another thing mentioned at the check-in is the assistance for low income households to get a $50 discount on Internet connection (or $75 if living on tribal lands)—including anyone at 135% or below the federal poverty level.  https://www.fcc.gov/emergency-broadband-benefit-program. FB post below, and here's the template link.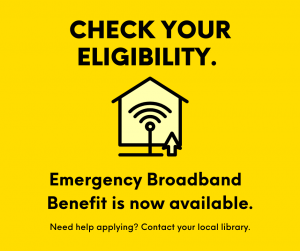 Summer Library Program toolkit updates.
It's here, or find a link on the Youth Services page or in the Article Index. You'll need a password; ask Leah to forward that if you don't have it.
Novelist Training Resources
Take full advantage of this handy resource! Use these training resources, shared by Maureen.