WLA Takeaway Ideas and Martha's Scrapbook are at the end of the digest. Correction from last week's Digest: Laura's official title is "Bibliographic Services Assistant."
Tip Jar
ILL Halloween week tip-treat
Paging slips should always be folded and placed inside the book or material. Pink slips should be used as a flag, sticking out of the top of the item. Removeable tape should only be used as last resort – a rubber band works great!
Delivery tip
Remember to label any pre-sort bins your library makes to ensure proper delivery. Bins without labels get sorted at Waltco, and anything without a transit flag gets delivered to IFLS to be scanned and sent back to Waltco with flags. This takes a lot of staff time and it delays delivery by a few days.
Daylight savings
Clocks fall back this weekend. Here are some tips for making that transition. Or read way too late because that "extra" hour obviously means you can stay up until 2:00 in the morning, right?
Internet Discount Finder free stuff
DPI has been supporting the Internet Discount Finder and has created a bookmark and flyer for promotion within the library.  If you would like some for your library please complete their form survey by November 7.  The link includes pictures of the bookmark and flyer. (note: IFLS can't order these, so get yours now!)
Grant alert $$
Have you started your application for Libraries Transforming Communities (LTC): Accessible Small and Rural Communities yet? Do you need some assistance or a boost of inspiration to apply?
Check out our Application Resources & Tips to get started. On this page, you'll find the pre-application webinar, examples of successful applications, and the opportunity to sign up for a one-one-one or small group discussion with ALA staff to discuss your application and go over any specific questions. Don't get dissuaded by the application length! ALA Public Programs Office staff is readily available to provide assistance.
Coming up
From ALA: free virtual roundtable events
ALA's Social Responsibilities Round Table has organized a free virtual Current World Events Discussion Series for Library Staff and Community Members.  It is open to library staff and patrons, two Saturdays a month.  Coming up next on November 4 from 1-2 pm:  Discussion on Israel and Palestine War.  This includes information and resources with background information, including general information about journalism, media literacy, and more.  You can learn more and register here.
From IFLS
A visit from Martha
Martha Spangler (Altoona PL) stopped in to show us the scrapbook she made after visiting every MORE library plus five bonus libraries! She came away from the experience with an expanded appreciation for all the unique ways that libraries are doing great work serving their communities. She also collected a list of ideas to bring back to Altoona, and has already implemented a couple of them! Thanks for stopping in, Martha! Any sharables from Martha will be listed in future Digests.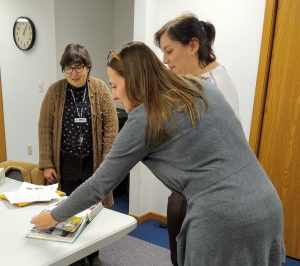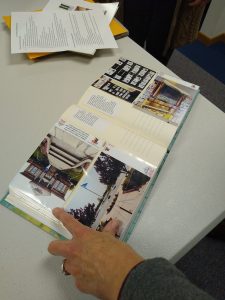 WLA Conference takeaways
If you have insights from the conference and send them to Reb at kilde@ifls.lib.wi.us, I'll include them in next week's digest.
from Bridget Krejci, IFLS staff
This conference started on a bright and positive note from the two founders of the Civility Project -Mr. Nolan Finley and Mr. Stephen Henderson. Two points that stood out –
Finding value even in disagreement

The goal is not to "win" in a conversation. The goal is to talk and share knowledge
Mantras to carry along not only in the workplace but beyond!
from Katelyn Noack, IFLS staff
.I learned a few new project management strategies for organizing thoughts to create actions and plan to take a closer look at my current project workflow.
I loved seeing examples of onboarding practices and was able to view statistics on the value of onboarding employees and how that aids in retention and saves costs over time.
While it may not be directly applicable to my position, I greatly enjoyed hearing about how the La Crosse Public Library started their circulating tool collection (including saws, pressure washers, carpet cleaners and more); their successes, speedbumps, and the day to day of dealing with a tool collection.
from Reb Kilde, IFLS staff
The American Heart Association will partner with your library to provide a Blood Pressure Hub/Check-out Station; Nutritional screen and refer center; CPR lending station. They can also help you create and implement a Cardiac Emergency Response Plan for your building. For more information contact Susan Hjelsand, Senior Community Impact Director at 262-388-2267 or susan.hjelsand@heart.org.
You can do fundraisers on Beanstack.
Middleton Public Library did a session on their rebrand and library space refresh. They used a lot of inexpensive options that really popped. (Kathy, Katelyn and I popped in to see it in person.)

They used vinyl wraps on doors, elevator doors and the book drop to pull in their new logo colors. Interior signage used a colored vinyl board with slide-in updatable cardstock printed in-house.
They implemented a donor wall. Sponsored by a major donor, the wall could include a quote or other customized information. The sponsorship expires after a pre-determined number of years. What a great (and inexpensive) way to recognize a donor and promote your major donor program! The art gallery space is also donor-sponsored.
They hired a local artist to paint a welcome sign in the most frequently used languages in this diverse community. They used paint nicely throughout the small library to define spaces and brighten up the space, like the bathroom signage.
They also had a customized 1000 Books Before Kindergarten book that was pretty neat, and (bonus!) they're right up the street from the Mustard Museum!
Click on image to enlarge photos