Katelyn's Pick of the Week: 
Free Publications from the FTC for Your Library 
Did you know that you can order free bulk publications from the Federal Trade Commission (FTC) for your library? Available materials include bookmarks, fliers, and worksheets on a variety of topics in English and Spanish!
Some of the topics include:
Check out a full list of all available publications HERE. All materials are provided and ship for free.
August and September Professional Development Opportunities from Leah
*The Wisconsin Homeschooling Parents Association, Homeschooling 101—Library Edition, August 18, 1-2:30 (learn about Wisconsin laws and how libraries can support homeschooling families).
*Director Check-In, August 19, 10-11 am.  We'll be talking about Privacy.  Contact Leah for the link, or look for it in an email next week.
*Wisconsin Trustee Training Week, August 22-August 26, 12-1 each day.  A full line-up for trustees!
Niche Academy–From Diversity to Inclusion:  How to Audit Your Collection and Why, August 24, 1-2 pm.
*Youth Services In-Person Check-In at LE Phillips Memorial Public Library in Eau Claire, September 13, 1-3:30 pm.
*Mental Health in Library Customer Interactions, September 15, 2-3 pm.
*Wisconsin Tech Days webinars, September 20-21.
*sessions are sponsored by IFLS
Update: Deer Park's native planting
Deer Park Public Library's native prairie planting is coming right along! Members of the Forest Timberwovles 4H Club have helped with incorporating native plants, shrubs and trees into the Deer Park Public Library landscaping. In the photo with the Homegrown National Park sign (from left to right) the girls are: Anna Meyer, Molly Meyer and Shelby Meyer. Shelby was not available when we planted the trees. Marci Meyer, their mom, is the person farthest away in the tree photo.
"We were able to do these thanks to grants and donations that the library received," says Deer Park Public Library Director Barbara Krueger, "If people want to find out about Homegrown National Park participation here is the link: https://homegrownnationalpark.org/"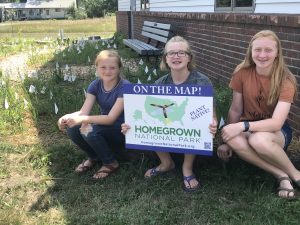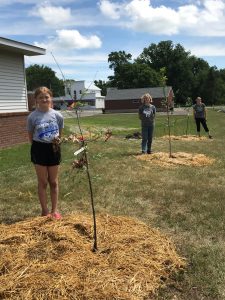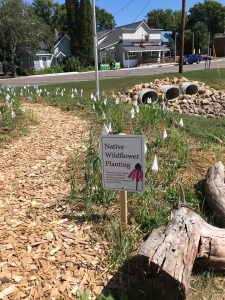 The News from IFLS: bounce alert
The latest edition of The News from IFLS went out yesterday! You can read it online.
If you subscribed to The News but it's not landing in your inbox, it could be that your email isn't updated after all the recent changes. If you still have a past issue of The News you can simply find your way to the bottom of it and click on the "update your preferences" link. (You can't do that in the archive version because it works with your unique email.)
The other option is to use this sign-up link to resubscribe. You're welcome to use that link to invite others to sign up. The News is for trustees, friends, volunteers, library staff or the general public. Feel free to invite your elected officials as well.
Libraries are invited to the NW WI Regional Enrollment Network kickoff meeting August 18
The Wisconsin Department of Health Services is reinvigorating Regional Enrollment Networks in an effort to better coordinate the outreach and enrollment work of local communities, agencies, community organizations and other enrollment assisters. The goal is to assure that as many people as possible are effectively enrolled in health care coverage through the Federal Marketplace or Medicaid/BadgerCare. Directors will be sent the complete invitation with details and links.
That's it! Have a good week, see you next time.