Wilberg Memorial and Cadott awarded grants
Both Wilberg Memorial PL of Osceola and Cadott Community Library recently announced Libraries Transforming Communities grants (Barron was also awarded a grant). Well done! John tells me there may be more announcements coming–watch this space.
Order Due (from Kathy)
April 28 – Receipt paper orders due. Order form. See Kathy Setter's 4-20 email
May 1 deadline: Read Africa grants (from Leah)
The African Studies Program at the University of Wisconsin-Madison is pleased to offer public libraries throughout Wisconsin the opportunity to enrich their collections with new titles through their Read Africa program. Public libraries across the state are invited to submit proposals to purchase books and materials that will enable Wisconsin readers to deepen their understanding of Africa.
In Case You Missed It: useful links
The ALA COVID Library Relief Fund
This fund will assist public, school, academic, and tribal libraries across the United States and US Territories that are experiencing substantial economic hardship due to the coronavirus pandemic, which has impacted their ability to serve their community, especially traditionally underserved populations. The deadline for applicant submissions is May 20, 2021. Grants will be announced on June 23, 2021.
The Fund has 1.25 million dollars and will provide grants between $30,000 and $50,0000 to libraries/library systems/districts that have seen a substantial reduction in funding that impacts their ability to provide essential services to underserved populations in low to moderate income groups.
Coming Up on the IFLS Calendar
MORE events
The next Webmaster office hours
Tue May 11th 1:00pm
– 3:00pm 
Remember, beginning in 2021, webmasters or a representative must attend 6 out of 24 office hour opportunities. 
Find all office hours and links to attend here.
 Mark your calendars for 2nd Tuesdays 1-3pm and 3rd Thursdays 1-3pm each month.
WPLC Annual Meeting (and some extras)
This is from Maureen's detailed email earlier this week. Questions? Contact Maureen. 
The WPLC's most popular service is 
Wisconsin's Digital Library (WDL)
 powered by OverDrive. IFLS public libraries are WPLC members through their IFLS system membership, so you can attend this meeting. 
This year's WPLC Annual Membership meeting will be held on April 29, 2021, at 10:00 am.
Please register here
 for a link.  After registering, you will receive a confirmation email containing information about joining the meeting.  
Amy Stormberg (Amery PL) and Martha Spangler (Altoona PL) are our reps on the WPLC Digital Library Steering Committee, which manages the operation of the WDL.  Amy and Martha will keep you informed and solicit and share your opinions. The WPLC website has additional info.
Another way to stay informed on the status of Wisconsin's Digital Library is by subscribing to the WPLC Announcements email list. The Announcement list's emails include upcoming Together We Read titles, new formats (like recently added magazines), any outages, and updates like these recent design updates.
LSLS21 is Coming!
Registration for the free virtual ninth annual Lake Superior Libraries Symposium is now open! LSLS21: Mapping Our Identity will be held virtually on Friday, June 11th, 2021, 8:45 am to 3:45 pm Central Daylight Time. Library staff, administrators, trustees, and students from the Upper Midwest and beyond are invited to attend and participate.
Registration is first-come, first-served and will be capped at 200. Register today! 
This FREE event will include a keynote by Fobazi Ettarh, creator of the concept "vocational awe," and 13 inspiring presentations that help you explore your identity and that of your library.
What's your favorite baby animal?
Me: goats. Cutest babies in the world. Happy Spring!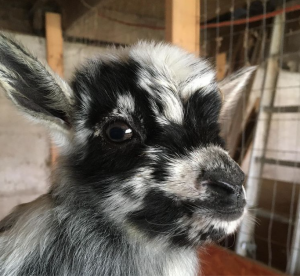 Edited by Rebecca Kilde. Your questions, comments and ideas for The Weekly Digest should go to Reb Kilde: kilde@ifls.lib.wi.us.